Mission Statement:
Tidewater Medical Training is devoted to providing exceptional healthcare education that inspires compassionate care and competency while incorporating the latest in learning technology. Our students will receive unsurpassed training and personal mentorship in a family-like atmosphere from some of the most respected Healthcare Professionals in our community.

TMT graduates will be sought after and establish themselves as the best care givers in the healthcare field creating a network of lasting relationships between TMT, our students, and local health care organizations.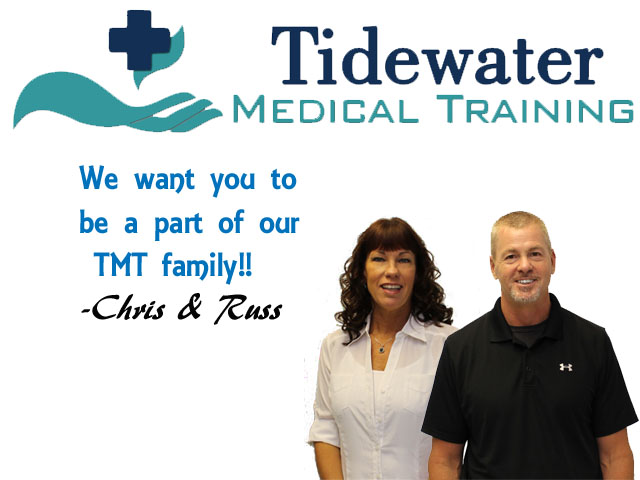 Tidewater Medical Training is the vision of Christine Smith, RN, MSN (formerly Christine Mettille).  Christine served her country in the U.S. Navy and has a lengthy background as a nurse educator.  In her previous role with a large health care system, she graduated over one thousand CNA's and made numerous positive improvements to their training program.  These improvements were recognized by the Board of Nursing for the Commonwealth of Virginia where it was mentioned that she had the "...best CNA training program in the state" referring to pass rates and educational quality! 
Her life experience has allowed her to fulfill her personal vision of bringing the best CNA training available to Hampton Roads and doing so with with competence and compassion.  Her faculty and staff are the best in the business and are here to serve you and all of your training needs. 
Russ Smith (husband of Christine Smith) joined the TMT team from day one as a supportive spouse and Business Director.  With a degree in Technical Management and a lengthy career in the Air Force, his role as Business Director seemed only natural.  Russ manages all aspects of strategic planning, campus operations, and oversees the administrative staff.  Although relatively new to medical training, his life experience and ability to bring out the best in people has enabled him to quickly embrace and find success in this role.