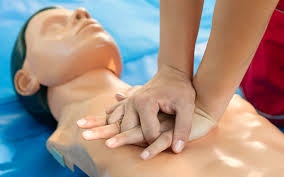 Heartsaver CPR (Adult/Child/AED) with First Aid - See why TMT is right for you!
Course Number: CPR4100 Course Title: Heartsaver CPR (Adult/Child/AED) with First Aid
Hours: 4 Hours
While using American Heart Association videos and curriculum, Instructors will lead students through a dynamic, hands-on CPR video-based learning experience that teaches adult and child life saving CPR and AED use and how to relieve choking in adults. The first aid portion teaches students critical skills to respond to and manage an emergency in the first few minutes until emergency medical services arrives. Students learn duties and responsibilities of first aid rescuers; first aid actions for medical emergencies, including severe choking, heart attack, and stroke; and skills for handling injury and environmental emergencies, including external bleeding, broken bones and sprains, bites and stings.
Program Entrance Requirements: None
This class is for:
Employee training at companies, corporations, businesses or other entities. 
For employees and/or designated first responders who have a duty to respond to a cardiac emergency as outlined in job responsibilities or regulatory requirements. 
Provides additional training for child caregivers, parents, those responsible for elder individuals and lay rescuers who have a duty to respond.

Required texts/other materials: Provided
Program Cost:   
| | |
| --- | --- |
| Tuition:      | $95.00 |
| Total:   | $95.00 |
Course goals
At the end of this course the student will be able to: 
Receive a 2-year certification from the American Heart Association. 

Subjects Covered: 
| | |
| --- | --- |
| CPR Adult            | Use of the AED |
| CPR Infant | AED Safety |
| CPR Child | Choking Response |
| Finding the Problem | Using an Epinephrine Pen |
| Donning & Removing Gloves | Bandaging |
| Stopping/Controlling Bleeding            | Managing a Variety of Common Emergencies |