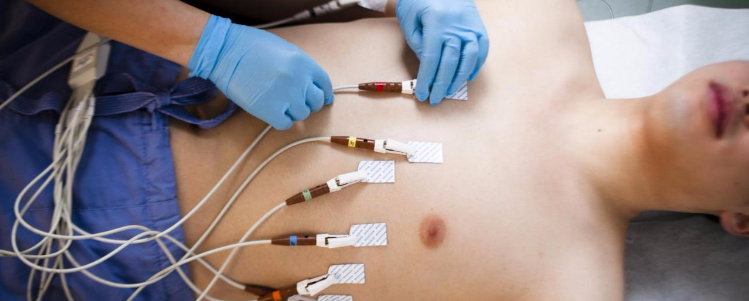 Take a look at all the reasons why TMT is right for you:


Course Number: E5000           Course Title: EKG Technician
Hours: 70 (35 online, 35 classroom/lab)
This course is designed to introduce students to electrocardiographs (EKG's) and cardiac anatomy and physiology. Topics to be covered include basic cardiac anatomy and physiology, patient preparation, patient confidentiality, identification of irregularities of the heart and distinguishing more complex arrhythmias, cardiac modalities and pharmacology, with a slight emphasis on complex heart rhythms, electrical disturbances, disorders and pacemakers. Course completion will enable student to sit for NHA national certification exam.

Program Entrance Requirements:
High School Diploma or GED
No felonies
Tuberculosis/PPD Test
Current American Red Cross or American Heart Association BLS Certification (will be offered during the class for an additional fee)
Required texts/other materials: Provided
Program Cost: 
| | |
| --- | --- |
| Tuition: | $850 |
| Non-Refundable Registration:      | $100 |
| Books & Materials | $95 |
| Supplies | $75 |
| Total:   | $1,120 |
Installment Payment Plan is Available: Registration fee, books & materials fee, criminal history check fee due at registration.  Remaining balance paid weekly in even installments during the course.  Balance must be paid in full by graduation. 


Course Goals:
At the end of this course the student will be able to: 
Administer EKGs and stress tests

Prepare patients for ambulatory monitoring

Communicate tests to physicians

Transcribe physician test readings

Pass the NHA Certification Examination to become a Certified EKG Technician (CET). Exam fee not included in tuition.
Subjects covered: 
| | |
| --- | --- |
| Electrocardiography | Basic 12-Lead EKG Interpretation |
| The Cardiovascular System  | Exercise Electrocardiography |
| The Electrocardiograph | Ambulatory Monitoring |
| Performing an EKG | Clinical Presentation  |
| Rhythm Strip Interpretation             | Management of the Cardiac Patient |